This year's election in West Bengal was somehow interesting. Prime Minister, Home Minister, did massive rallies in West Bengal. Heavyweights from all over India campaigned for various political parties. In the end, there was one winner by a clear margin, and that was the All India Trinamool Congress. We all must congratulate the people of West Bengal for the mandate and TMC for winning the election. We Bengalis are no stranger to Election-related violence. Since the inception of West Bengal in every election, there has been some violence, but we never expected it to fall so low.
Khela Cholchhe!?
Since the results have been declared, hundreds of BJP supporters' houses were razed, their women threatened with physical violence, and if some reports are true, they were molested. Even though victorious TMC supremo Mamata Banerjee was quick to dismiss claims of violence, calling most videos and images fake, according to ground reports, the situation is dire and an unprecedented level of violence are taking place as I write. Hundreds of attacks on the opposition, party workers have been recorded. Hundreds of people are injured. Over Fifteen supporters of various political parties, mostly from Bharatiya Janata Party, have been murdered allegedly by TMC supporters. Netizens are saying "Is this the Khela what TMC always talked about?"
BJP leader Swapan Dasgupta tweeted
Some 2.28 crore people in Bengal voted for BJP. Do they not have human rights & democratic freedoms? What is happening in W Bengal is an assault on Indian democracy. I am not pleading; I am demanding administrative action to stop the violence. The alternatives are unpalatable.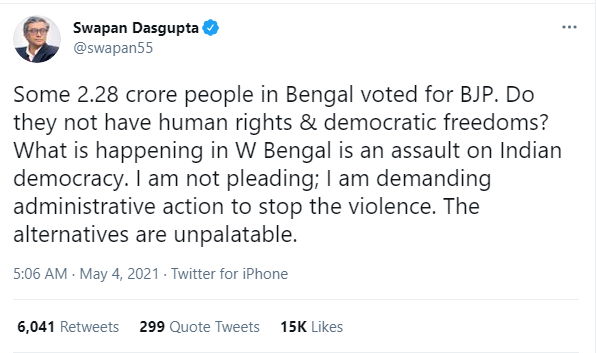 Are these reports of gruesome violence in Bengal TMC's 'victory celebrations'? Condemnable. Will be resisted & rebuffed. Instead of focusing on combating the pandemic TMC unleashes such mayhem. CPI(M), as always, will be with the people to protect, assist, providing relief.

CPM leader Sitaram Yechuri
There are hundreds of verified and unverified videos and images that have surfaced on social media. Some unverified video went viral where can be seen scores are people are leaving an area claimed to be West Bengal Assam border.
Attack on BJP cadres and voter in Nanur, Birbhum. TMC has attacked 500+ houses supported jihadi, 40+ people injured, and many left home for saving lives.Mananya – are you offering this kind of law and order and Democracy to the people of West Bengal?

Chaitali Dutta, Activist
Hon minister Himant Biswa Sarma has recently tweeted some images of people where he mentioned that 300 to 400 people along with their family members have crossed in to Assam.
In a sad development, 300-400 @BJP4Bengal karyakartas and family members have crossed over to Dhubri in Assam after confronted with brazen persecution & violence. We're giving shelter & food. @MamataOfficial Didi must stop this ugly dance of demonocracy! Bengal deserves better.
Reports of women Red volunteers (An left-leaning group of volunteers working on the ground to support Corona victims. ) are being threatened with rape and death threats.
Shri Jagat Prakash Nadda, the former BJP Working president of BJP, flew to West Bengal and will remain there for two days to assess the situation. He and State BJP President Shri Dilip Ghosh and other state committee members visited the victims' houses and assured protection and justice.
Fed up with the current situation, Netizens have started an Online campaign to enact Presidential Rule in West Bengal. So far, 7,700 people have signed the petition. There is also a #ArrestMamata tending on Twitter.
In a healthy democracy, everyone should have the rights to vote whoever they want, and each and everyone should respect that otherwise what is the difference between West Bengal and Mogadishu!