I was born in a small town in eastern India and grew up in another tiny town called Raiganj. My father had a transferable job and we used to travel to various small town and cities of northern parts of Bengal. When I was a child and I visited any new place, my father always insisted that I write down my experiences because someday later in my life I would enjoy reading them. Well, sometimes I did, but most of the times I didn't. But now, I love writing it for myself. I feel that it completes my travel, enriches my journey.
I visited central Europe during summer holidays with my husband, for 8 days. We toured six countries and visited most of the capital cities. Central Europe is filled with hidden gems but three standout capital cities have stolen my heart, linked by their past and being three of Europe's most photogenic cities. Actually, any visit to central Europe would be incomplete without visiting Prague's architecture, Vienna's palaces and Budapest's famous fisherman's bastion. If you are looking for old world appeal, you have come to the right places.
Berlin , Germany
The first day, we went to Berlin, the capital of Germany. The first thing that comes to mind is the Berlin Wall, the grim and grey divider of humanity which was finally pulled down in 1989. Though most of it was dismantled, a tiny portion still remains in which dozens of international artists depicted the eras global euphoria and optimism through statements and artistic expressions. After exploring the historic Berlin Wall, we set off for the German Parliament, situated in the historic "Reichstag" building. The Reichstag was opened in 1894 and housed the German Imperial Council till 1933, when it was severely damaged by an incident of fire. Adolf Hitler was the German Chancellor at this time and and his government found a Dutch communist behind the arson attack. The event gave a major impetus to the Nazi Party claim that communists in general were plotting against Germany. This resulted in an emergency decree that outlawed the Communist Party and finally paved the path for establishment of Nazi Germany.
For us, travel is boring without good food. After exploring the historic Berlin Wall and Reichstag, we went for our dinner at an Indian restaurant. The first day, we retired early at a hotel because the next day we planned an 8 hour journey to Krakow in Poland.
In front of the Berlin Wall, the divider between West and East Germany, during the Cold War.

The historic Reichstag building.
Krakow, Poland
Set on the banks of Vistula river, Poland's second largest city is a hotspot for arts and culture and is full of beautiful buildings and fascinating history waiting to be rediscovered. Beyond the city walls, we came across patches of communist era concrete buildings. The old city is decorated with mix of gothic and renaissance style churches.
We visited the main square, one of Europe's largest market square, and on a sunny summer evening is was full of flower stalls, bagel sellers, potteries, garnet jewelries.
A jewellery shop in Krakow old market square.
I was so overwhelmed by the handmade items that I could not resist myself to buy two expensive hand-painted tea mugs. Krakow people were friendly and welcoming. I found them to be more simple than the people of some western European countries that I visited. While in Krakow, I loved every bit of it and would always wish to come back. However, the following day we came to a place which is a polar opposite to the artistic beauty of Krakow and fills the mind with unspeakable horror and grief.
On the banks of Vistula river, Krakow.
Auschwitz , Poland
This place is Auschwitz, about one-and-half hours drive from Krakow, which witnessed one of the darkest chapters of human history. This is where the largest Nazi concentration camp during the second world war was situated. Together with a sister camp in a nearby village called Birkenau, Auschwitz became the most notorious industrial-scale slaughter house of human beings during an enormous ethnic cleansing today known as "The Holocaust". The prison cells, the cramped dormitories, the barracks for SS guards, the dark cellars, the iron pillars for summary executions, the watch towers, tons and tons of shoes/suitcases/spectacles that once belonged to the helpless prisoners and lastly, the infamous gas chambers and crematoriums all bear the grim reminder of an episode that highlighted the extent of hatred and cruelty human beings are capable of towards certain members of the same species. It is too depressing for me to go into further details of this evil place. I simply wish that such history doesn't repeat itself.
While "The Holocaust" was converting human bodies into ashes at an industrial scale, Oskar Schindler, a German businessman, managed to save about 1200 jewish prisoners by employing them in his enamelware factory in Krakow. I missed visiting Schindler's museum and that will be in my wish list in future visits to Krakow.
The entrance to the Birkenau concentration camp, an enduring and chilling reminder of The Holocaust.

A crematorium inside Auschwitz, where human bodies were burnt into ashes after being killed inside gas chambers.
Prague, Czech Republic
On the fourth day we set off for Prague. The Czech capital has a unique way of capturing the heart of each and every visitor. There is a lot to keep you busy in your first visit to Prague. A walk along the iconic Charles bridge, perhaps the most recognisable landmark of the city, is worth mentioning. Though it was really hot in the end of June when we visited, but the coming sunset makes the historic city beautiful and more lovely. We visited Prague castle and I enjoyed taking some photos with stern faced guards. We came to know that the Prague castle is largest ancient castle in the world, occupying an area of almost 70,000 square metres. The other interesting part was the large crowd watching the astronomical clock at the central market square with all the enthusiasm and uninterrupted gaze. I loved the old market square, filled with little local shops, selling souvenirs and other gift items. The place is so lively that one can easily spend several hours there. The only discomfort we faced was the scorching heat during the daytime (with temperatures touching as high as 38 degrees Celsius) and got a dark tan. We had a stroll down the lanes of the city to the charming little shops, juice bars and gift corners.
For those interested for a taste of native culture, there are restaurants in Prague offering traditional folklore show along with the meal. We went to one such and enjoyed thoroughly. Prague will remain in my happy memories for a long long time. The night walks are really awesome and there is an authentic romanticism in the city. If you are a romantic person go to Prague for 3-4 days and enjoy the night walks. It is worth the money spent.
The Astronomical Clock in Prague old market square.

Inside the Prague Castle courtyard.
A souvenir shop in Prague.
Vienna, Austria
After 2 and half days in Prague, we are ready for Vienna, the Austrian capital. Imperial and impressive Vienna is one of the grandest cities in all of old Europe. The vintage culture, mixed with old architecture, transports you back to a time of monarchy and nobility. You cannot help but to imagine yourself as monarch from previous lives. Its cafe culture, dedication to opera, impressive art collection and stunning architectural artefacts, give you an authentic European feel. Vienna is adorned with many wonderful displays of building architectures and among them the Schonbrunn Palace needs special mention. It was the main summer residence of the Habsburg dynasty, an Austro-Hungarian royal family that ruled central Europe over six centuries and was dethroned at the end of the first world war. Since 1950s the Schonbrunn Palace was turned into a major tourist attraction. We also visited Saint Stephens Cathedral; the place is beautiful inside-out. The area is very lively outside the cathedral with some high street shops as well as local souvenir shops. We toured the city on a horse-drawn carriage and it was very enjoyable. But compared to other central European capitals, Vienna is expensive. Similar to Prague, Vienna too, is very hot in summer with mercury reaching nearly 40 degrees.
A visit to Vienna is perhaps not complete without visiting an opera house. The one we went to also hosted drinks and dinner. Visiting the opera house gives you a local feeling of the city, its culture and its people. Altogether, it was a satiating experience.
The Schonbrunn Palace, imperial residence of the Habsburg monarchs.
Dinner time in an opera house.
Bratislava , Slovakia
Next, we set off for Budapest, the capital of Hungary. In between, we made a 2 hours stop at Bratislava, the capital of Slovakia. The Czech Republic and Slovakia used to be parts of a single country called Czechoslovakia, which was dissolved in 1993 and gave birth to 2 independent nations. We took a toy tram ride which took us to parts of the old city, including the imposing structure of Bratislava Castle built on a hilltop directly above the Danube river. The original castle was built in the 9th century, but was reduced to ruins after a fire in early 19th century. It was only after the second world war when serious reconstruction and renovation took place that converted the place to the fantastic tourist destination that exists today. The castle has served as official residence, wedding and coronation venues for monarchs from various dynasties, including the Habsburgs from Austria. The castle offers a marvellous panoramic of the entire city, with the Danube flowing through the middle.
The toy tram which took us to a trip of the old city.

Bratislava, from the walls of the castle.
Bratislava Castle
Budapest, Hungary
After spending a couple of hours in Bratislava, we resumed towards Budapest, the capital of Hungary. Glittering at dusk as the city illuminates, Budapest is a city that looks modern on the surface, but dig a little deeper, you will uncover a historic past. It is filled with glorious architecture, rich history, warm people and unusually interesting culture. Budapest is actually two cities, Buda and Pest, on either side of the Danube river, connected by the Chain Bridge.
A panoramic view of Budapest overlooking the Danube.
The Buda side has a certain appeal of its own. The Fisherman's Bastion is possibly the most visited attraction. It was built in late nineteenth century to celebrate the 1000th birthday of the Hungarian state. The place has 7 towers, representative of 7 tribes that settled down here during the late ninth century.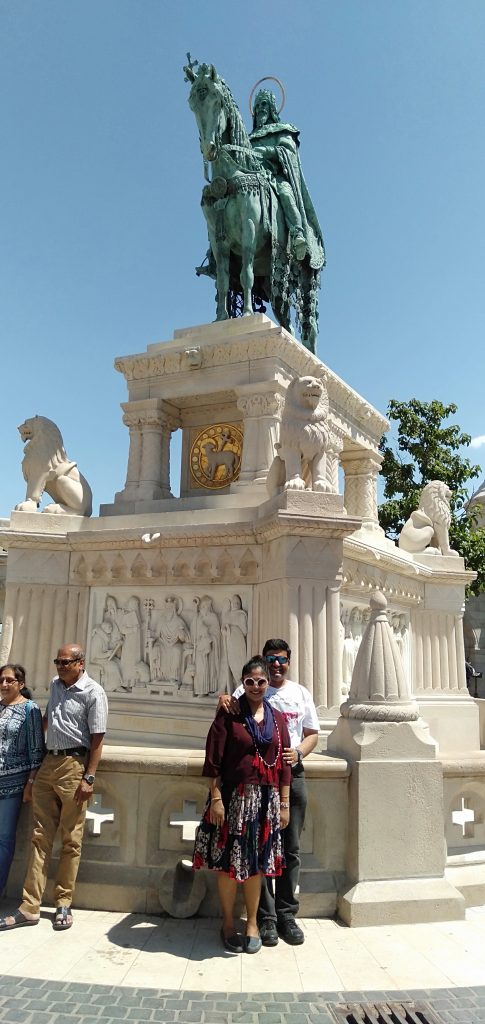 There is also a bronze statue of St. Stephen, the first Hungarian king. We visited the Fisherman's Bastion and enjoyed the architectural wonders accompanied by scenic sights overlooking the Danube river. Though we didn't have time on this occasion, viewing Budapest at night from a river cruise will be among my wish list during future visits to this city. Next, we went to the town centre of Pest, tried some local foods and shopping before moving towards our evening flight to London.
Altogether, a memorable experience in old Europe, steeped in history, spectacular castles and palaces, churches built from forgotten times, a mix of ancient, medieval and modern architecture, a taste of local culture and customs. I look forward to come back to these magnificent places in future and explore their beauty as well as their exciting past at a greater depth.