Lal Bahadur Shastri once famously proclaimed,"Jai Jawan, Jai Kisan". Today, even as we hold our jawan, our soldiers in high esteem, the conditions of the farmer in India is deplorable. Agriculture may today contribute to just 15.5% of the GDP (as of 2017) as compared to 41.8% in 1960, but agriculture is the primary source of livelihood for about 58% of the Indian population. India is among the top 15 exporters of agricultural products in the world and the total agricultural exports from India stands at a whopping $38.21 billion in the fiscal year 2018. The Indian food and grocery market is the world's sixth largest, while the Indian food processing industry accounts for 32% of the country's total food market. As per the Union Budget (2018-19), Rs 57600 crore was allocated to the Agriculture Ministry. With such great figures, one would expect that agriculture must be prioritised and therefore doing quite well in most places in India.
Not quite.
There are serious systemic problems and lack of structural elements that would facilitate a more robust agriculture sector. Let us look at what these are with a look at the realities of the agriculture sector in India.
Realities of Agriculture in India
Food Grain Production:
During the 2017-18 crop year, rice and wheat production in the country is estimated at 111.52 million tonnes and 98.61 million tonnes respectively, as per third advance estimates, while food grain production is estimated at 279.51 million tonnes in the same period. India is also the second largest fruit producer in the world, while the production of horticulture crops is estimated at a record 307.16 million tonnes in 2017-18 as per second advance estimates. India is the largest producer, consumer and exporter of spices and their products, with spice-exports from India reaching $3.1 billion in 2017-18. Tea exports from India have reached a 36 year high of 240.68 million kilograms while coffee exports reached a record 3,95,000 tons in 2017-18. However major problems ranging from lack of support for farmers to lack of facilities, infrastructure and units for procurement and effective storage.
So how do we resolve these problems?
Let us start by looking more closely at the problem. Since most of the cultivable land India is farmed and yet the demand is every-increasing for food grains, raising productivity per unit of land is much needed. Water resources are limited and this limited supply of water is as much needed for industrial and urban needs as it is for irrigation. Hence, all measures to increase productivity need to be brought into place, including increasing yields, diversification to higher value crops, and developing value chains to reduce marketing costs. In today's age, promoting new technologies and reforming agricultural research is key.  Research into best agricultural practises has declined due to acute under-funding of infrastructure and operations, or broad access to state-of-the-art technologies that are needed to succeed in this respect. There is also the problem that there is little connection between research and extension/dissemination of this to the stakeholders (particularly the farmers), or between these services and the private sector, thereby creating a lack of dialogue between the two. Due to the aforementioned problem with water supplies and high demand of agriculture on these, India also needs to improve the management of irrigation and drainage. Drip irrigation, piped conveyance, and better on-farm management of water are among the various ways  that this can be realised. Also, given the depleting water table, one must use water with discretion for sustained supplies for irrigation. Unfortunately, farmers still use excessive amounts, way beyond their need leading to wastage. Modernizing ways of getting water from underground sources and other water bodies, irrigation and drainage is needed along with including the farmers in a participatory model where their inputs are taken all along the way.
The maintenance of a high output-to-input ratio for government schemes and prioritizing government expenditure to only those areas where returns are high, besides also allocating money and resources for sustaining the primary investments (say in terms of managing and fixing the irrigation management systems) are all steps that need to be taken. One important part of a more profitable agricultural model is the diversification of crops to include higher-value commodities. This helps immensely with poverty alleviation, due to the limited land holdings of certain farmers. Further liberalization of elements like transportation, processing, marketing and export can be helpful in making the market competitive and to inject capital into the system. The government can play a basic minimum regulatory role but most of the agro-processing must be endowed with a competitive market value chain. This will lessen the burden on the government to invest in power, fertilizers and irrigation systems, wherein it spends four times what it spends in investment expenditures! Also, one must improve access to rural finance for farmers since it is still is difficult for farmers to get credit.
The elephant in the room still is procurement, which I will be discussing later in this article. Besides this and the primary, aforementioned points, adoption of food safety and quality assurance mechanisms is important. This includes Total Quality Management (TQM) that in turn includes Good Manufacturing Practices (GMP) , Hazard Analysis and Critical Control Points (HACCP) and Good Hygienic Practices (GHP) in the food processing industry. This is going in the direction of not only helping the farmer but also safeguarding and promoting a sustainable agriculture sector in its entirety. Unfortunately, arguably for political reasons, Indian policy has not been able to evolve from the idea "farmer well-being" to "agricultural household sustainability". There is a certain conspicuous lack of long-term policy planning, which along with the welfare-oriented policy results in a periodic loan-waiver method that only perpetuates a poor credit culture in the primary sector and, hence, a fragile balance sheet for the state. This easy letting-be by convenient waivers is a quick solution for the short term but quite counterproductive in the long run. One, therefore, needs more comprehensive reforms.
This should start with a constitutional amendment that makes agriculture and water use a part of the concurrent list in the Constitution (currently agriculture, dairy, meat and fisheries are state subjects). This would provide a federal boost to states, with a primary emphasis laid on how to use water sources and resources effectively. This water project will not only focus on bringing more areas under irrigation in a sustainable manner but also focus on innovations and elements that will improve efficiency in agricultural practises and its use of resources such as with the use of sprinklers and drip irrigation. Also harsh though it may seem, misuse of ground water can only be checked with a pricing of the elements that used to extract the water such as the electricity, without giving state subsidies beyond a point. n addition, the water effectiveness emphasis should insist on agricultural power being priced to the farmer. And most importantly, there needs to be a strong political will to carry these measures out. As I will discuss later, it is due to the superficial MSP-based resolution of problems given by Indian governments that crops go waste and procurement becomes a huge issue.
Milk Production and Meat Production:
Milk production and meat production were estimated at 165.4 million tonnes and 7.4 million tonnes respectively in the fiscal year 2017. Even though milk production has been booming due to the White Revolution and Operation Flood, the milk processing has been lacking. Only 10% of all the milk produced is delivered to some 500 dairy plants that process 20 million litres per day. Even though today 80% milk production is done in unorganised and backyard farms, it is projected that in the next decade or so 40% milk production will come out of organised modes. One of the contributory factors behind this trend is the increased consumption of value added milk and milk products. This is facilitating the farmers and producers to fetch better realisation price of milk, which in turn makes the farmers more open to improve the nutritional optimisation of feed and fodder and this improves the milk production. This natural graduation of dairy farmers from unorganised to organised sector is happening in their minds due to the benefits therein.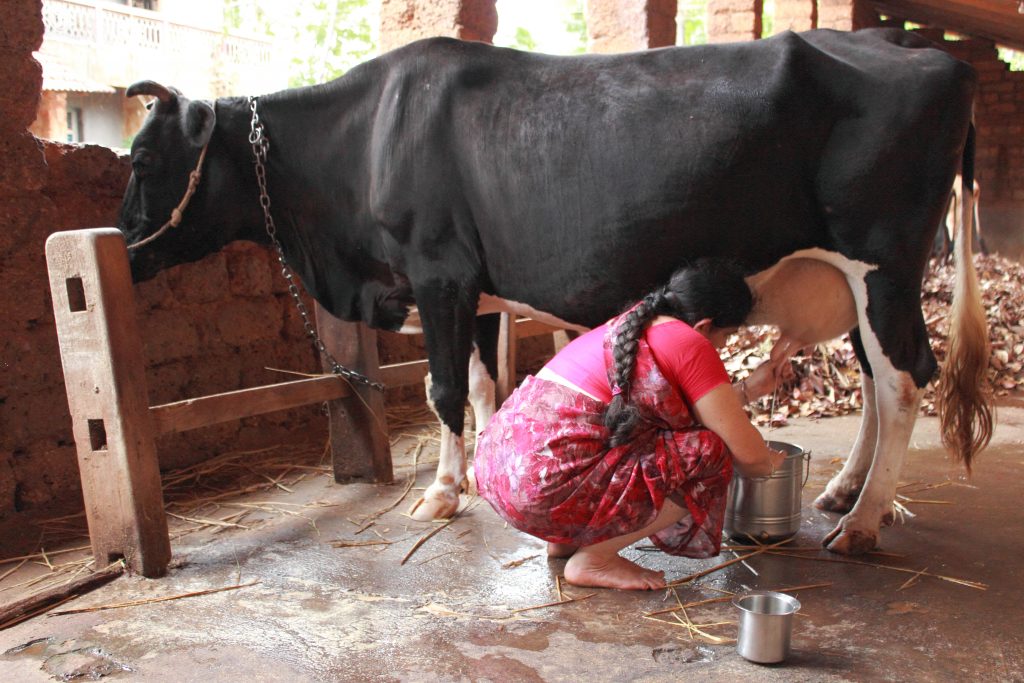 Dairy production is an important part of the primary sector in India (Image Credit: Flickr)
However, there is a big lot of farmers in the unorganised sector who still feed their cattle unbalanced diets and it is them that one needs to educate and inform about the importance of proper diet for the animals with an emphasis on their Dry Matter Intake (DMI) to protein  to energy needs. For the semi-organized dairy-farmer, the issues of herd efficiency and maintaining a consistent milk production round the year can be addressed by proper transition management and management of reproduction efficiency. Even the organised sector has the problems of feed-to-income ratio and a proper supply of forage. This can be addressed by keeping good silos and facilities for storing and managing Total Mixed Rations (TMR) for cattle. There is also a problem of lack of fodder year long (with an estimation of a 65% deficit in fodder in 2025), which can only be resolved by cultivating high yield fodder crops. Not to forget, the forward integration with the market in terms of properly marketing the milk and finished milk products needs to be done. A very Indian phenomenon is the presence of a large unorganised sector of vendors and milkmen, who collect milk from local producers and sell the milk in both, urban and non-urban areas, which handles around 65-70% of the national milk production. In the organised dairy industry, the cooperative milk processors have a 60% market share while the private dairies process and sell only 20% of the milk collected as liquid milk and 80% for other dairy products with a focus on value-added products.
Meat production and poultry is a booming industry in India. In 2017, chicken production increased by 7%, reaching a whopping 4.5 million tons. According to the Indian Department of Animal Husbandry, Dairying and Fisheries (DAHD), an estimated 2,38,00,00,000 chickens were slaughtered for their meat in 2016-17 in India. About 70% percent of this poultry production is controlled by large companies, which have slaughter facilities using huge amounts of water at every stage of production. This is however nothing compared to the meat industry of other countries. Today, a third of fresh water resources are used directly or indirectly by the meat industry globally. According to a very interesting fact, if every country in the world were to follow the high meat consumption patterns of America, the world would have already run out of water in the year 2000! Water is used for producing the grain feed for chickens, besides their drinking and maintenance of their surroundings. Water is also used for killing and cleaning the birds and then processing their meat. Not to forget, poultry creates a huge amount of water pollution at different stages of production, so much so that water cannot be recycled, drunk or even used for crops, due to being full of antibiotics and pesticides. These two factors combined—the amount of water used and the amount of water polluted—create the high water footprint of poultry.
It is estimated that 5000-50000 units of chicken are butchered every week in India, varying in the various states of the country. The living conditions of these chicken are despicable and after allowing them to lay eggs six months after moving in for a year they are sent off to the butchers. These chicken are often injected with chemicals that limit their growth or ensure that no further development of their eggs can take place! The high demand for meat and poultry in the country is the primary reason for non-adherence to standards and good practises, besides the exorbitant pricing and resultant spending on everything from electricity to grains and water. As we saw previously, a significant section of the Indian population is in agriculture for a relatively small pie in the economy, and this overcrowding often leads people to animal husbandry. The government has incentivized this further with subsidies and exemption on excise duty for meat processing units. With a certain growing acceptance of eggs as vegetarian food, the government has also launched schemes to make them available in midday meal programs in schools to get rid of malnutrition, which further increases the demand for the industry.
Improvement in infrastructure to keep pace with increasing demand, better regulation of food processing standards by the Food Safety and Standards Authority of India (FSSAI), and a mandatory supervision to ensure that rules are adhered to, besides prevention of unhygenic conditions for animals are important steps that must be taken. You may ask as to what is the point of keeping hygenic conditions for animals if they are anyway going to be slaughtered.  A good illustration of the need can be had in the instance where healthcare workers had to kill tens of thousands of chickens in the last few years due to the spread of bird flu, which was due to unchecked hygiene standards. Standards have to be ensured to keep the demand high.
The current government has taken some good steps like the issuing of soil health cards to keep a tab on the `health' of the soil. Designation of the agriculture ministry as the agriculture and farmers' welfare ministry has brought to the fore the idea that keeping farmers' welfare is important for agriculture progress. I would go a step further and include sustainable community/family interests as well, albeit for that a sizeable amount of dialogue will need to be done with the rural development ministry.  As per a Times of India article written by M.S. Swaminathan in August 2018, few of the major steps taken by the Modi government include
Both budgetary and non-budgetary resources have been allocated for promoting micro-irrigation through the Pradhan Mantri Krishi Sinchayee Yojana. Conservation and sustainable use of indigenous breeds of cattle is being encouraged through a Rashtriya Gokul Mission. The Prime Minister also inaugurated the first ever International Agrobiodiversity Congress.

Promotion of the electronic national agriculture market is helping bring together different agriculture markets. Likewise the creation of Gramin Agriculture Markets will provide scope for direct sales to consumers in both retail and bulk form. Notable in this context is also the introduction of the Agricultural Produce and Livestock Marketing Act, 2017 and Agricultural Produce and Livestock Contract Farming Services Act, 2018 supported by electronic Negotiable Warehouse Receipt system for increased institutional credit to the farm sector.

Also notable is the determination of MSP on the basis of NCF recommendations and assured procurement at MSP of more crops. Integration of protein rich pulses and nutri-rich millets into welfare programmes including PDS, mid-day meals and ICDS is important too.

Activities like apiculture, mushroom cultivation, bamboo production, agro-forestry, vermicomposting and agro-processing are being promoted to generate additional jobs and income for farm families. The prime minister has also suggested that we should develop methods by which farmers' income can be doubled within five years. Plus several corpus funds are being set up to complete ongoing irrigation productions, modernise the infrastructure in dairy cooperatives, and strengthen the adoption of inland and marine aquaculture.

Above all, the recent announcement of a remunerative price based essentially on the recommendation of NCF is a very important step to ensure the economic viability of farming. To underline, government has ensured in its notification that from kharif 2018 onwards MSP of the notified crops would be minimum of 150% of the cost of production; it ranges from 150-200% for coarse cereals.
The MSP Bandwagon vs Procurement 
One of the most widely followed practise by governments is to make the Minimum Support Price (MSP) `fair' for the farmers. The Union government constituted National Commission on Farmers (NCF) in 2004, which was headed M.S. Swaminathan. The NCF's recommendations on the MSP are taken as reference points today when discussing this topic. The Commission's recommendations were along these lines:
The Commission for Agricultural Costs and Prices (CACP), gives three definitions of production costs: A2, A2+FL and C2.

A2 costs – It basically cover all paid-out expenses, both in cash and in kind, incurred by farmers on seeds, fertilisers, chemicals, hired labour, fuel, irrigation, etc.

A2+FL costs – It cover actual paid-out costs plus an imputed value of unpaid family labour.

C2 costs – These costs are more comprehensive, accounting for the rentals and interest forgone on owned land and fixed capital assets respectively, on top of A2+FL.

The M.S. Swaminathan Committee report had recommended a minimum support price of 50% profits above the cost of production classified as 'C2' by the CACP.
Increasing the MSP most directly helps the farmer. It is a good initiative and has helped a lot of farmers, but this is not enough. Increasing MSPs may look good most on manifestos for elections but for truly addressing the problems in the agriculture sector, one needs to have a more comprehensive approach, which includes a big emphasis on procurement and storage. Aided by a good monsoon season, India may have produced record foodgrain this time but the lack of storage is not going to help. Recently it came to the fore that the government of India has not been fully paying the Food Corporation of India (FCI) the cost to run the massive food-grain procurement, storage and distribution network, and that it owes FCI an amount of Rs 2,0,00,00,00,00,000, due to non-payment of dues for three years now! To maintain the food procurement, distribution and supply, the Food Corporation of India (FCI) has been borrowing money from government's National Small Saving Fund (NSSF). In 2016-17, FCI borrowed Rs 6,60,00,00,00,000 from NSSF at an interest of 8.8% as an emergency fund raising.
Silage is still a major point of concern in India today (Image Credits: Tom Collins)
Even though the godowns of FCI are brimming with grains after the bumper season, past instances of rotting stacks of food-grains in FCI godowns might become more frequent with such a huge foodgrain harvest. Without funds, how is the FCI supposed to maintain stocks? This has been a problem not only of this government but many governments before. As the government has increased the Minimum Support Price (MSP) of foodgrains, it is expected to increase procurement as well. And this is where the lack of fund could impact the most. Availability of wheat is more than rice and with the kharif season around the corner, the government needs to start thinking of what to do with the wheat (which is not exported usually, due to global low prices of wheat) before the rice stock comes in. These are just some nuances of a fairly chronic problem. In West Bengal, under the Trinamool Congress (TMC), the collapse of the state procurement infrastructure has led to widespread distress among farmers and even farmer suicides.
To address this, I would like to put forward a proposal that may invite a lot of debate and even criticism but which I feel is the only way to address the dismal state of this in a fairly quick, quality-assured and sustainable way: put a major portion of silage, procurement and storage in the hands of private-sector entities. The reason for advocating this is three-fold: more flexibility and freedom of negotiating of private-sector entities, albeit within the bounds of the law, which can help them tackle various kinds of problems on the trot; the second is more freedom to experiment and to adapt new techniques in a quicker way without excessive red-tapism; and lastly, the constant competition mode after a fixed time period in public-sector entities does not allow long-term relationships between procurers and suppliers while that is not a problem with private sector players, which leads to long, sustainable bonds and stable market chains.
The Food Corporations Act (FCA), Agripreneurs and Innovation
The Food Corporation of India (FCI) was enacted by the Indian Parliament under the Food Corporations Act on 10 December 1964. Its primary purpose is the purchase, storage, transportation, distribution and sale of food grains and other food items. It also seeks to safeguard the interests of farmers, maintain buffer stocks and make grains accessible at reasonable prices to the weaker and vulnerable sections of society through the Public Distribution System (PDS). The FCI was useful when there were food shortages but with the aforementioned excess, its roles is being questioned and potentially redefined. According to the National Sample Survey Office (NSSO), in the year 2012–13, only 13.5% paddy farmers were willing to sell their output to procurement agencies.  A high-level committee that was constituted for the purposes of restructuring the FCI recommended, that the institution should hand over all procurement operations of rice, wheat and paddy to the states. It also suggested revisiting the minimum support price policy. Even though the Minimum Support Price (MSP) of wheat and rice has been increased since 2004-05 but the Central Issue Price (CIP), the price at which the government sells foodgrains through the Public Distribution System (PDS) in ration shops, has not been revised since 2002, leading to a widening gap between the subsidy expenditures and earnings in the system. The food bill is estimated to be Rs 13,81,23,00,00,000 in the 2018-19 fiscal year as against the actual expenditure of Rs 10,49,01,00,00,000 crore in 2017-18. To reduce food bill, the government has introduced a policy of switching all the expenses on procurement and distribution of food-grains over to the Public Financial Management Statement (PFMS) platform as mandated by the Finance Ministry in August 2018. the government has also introduced a policy of usage charges for packing of paddy to further the cause of reducing the food bill.
The committee also suggested the gradual containerisation of the movement of grains to reduce losses in transit and have a faster turnaround time. It has also recommended that farmers be given direct cash subsidy so that spurious diversions of implements like urea can be prevented. Most importantly, the committee believes that
 The new FCI should be a market-friendly agency for food management, with a primary focus on creating competition in every segment of foodgrain supply chain, from procurement to stocking to movement and finally distribution in TPDS, so that overall costs of the system are substantially reduced, leakages plugged, and through it serving farmers and consumers.
It also needs to prioritise the use of its grain management techniques in areas where farmers have often not been able to receive the minimum support prices. Above all—politically, economically and administratively — the FCI must look into getting rid of the occurrence of widespread hunger among the poor even with godowns brimming with grains. Recently, it has started to sell wheat in bulk to tackle the excess grain problem this year. Hopefully the poorest of the poor will be benefited from this and from future formulations of distribution of grains not only in times of crisis but also in normal times.
I would go a step further in seeking to promote agripreneurship (agricultural entrepreneurship) to make it a competitive space and to make infrastructure and capital available at various points in the value chain. This of course has to be regulated and cannot be uncontrolled, since then exploitation of the weaker sections in the rural hinterlands may be possible. Emphasis should also be given on how local solutions, businesses and ventures can resolve problems of an area. After all, they may best know what the best resolution for a problem in their locality would be. The best case, in example, is that of Africa and how agripreneurship is making inroads and good change in many parts of the continent. Successful supply chain development projects have reduced not only the transaction costs but also the institutional barriers that break encumbering  individual links in traditional distribution channels. They allow participants to achieve higher levels of service, products and solutions, and to capture substantial added value. This serves as a mean to achieve economic growth as well as for poverty alleviation.
Where on one hand one has a dairy farmer in Eastern Cape who use uses the computer programme for herd management and feeding he helped innovate and develop and that has helped him increase milk output 30% at the same cost, on the other hand, one has Agriprotein, a firm that turns fly larvae from food waste into a high-value protein feed for chicken, pigs and fish. However, one has to be cautious while considering agripreneurship as a solution: without proper capacity building, it may not be be sustainable. As the business grows, to keep the customers happy one needs to know the best possible ways to scale up for a particular product or solution in the sector. Thankfully, even there Africa is not behind. The recently started Young Innovators in Entrepreneurship and Leadership Development (YIELD) project seeks to build the capacity of agripreneurs. Africa was the cradle of humanity. I will not be surprising if they also give us the next stage in our evolution as a species and society, and it would be to India's benefit to adopt the best solutions in this sector, including a sustainable agripreneurship model, albeit assessed and possibly customised for Indian realities and conditions. In India, in certain parts such as Rajasthan, the first such ventures have been coming up, including the agriventures under the ACABCS scheme.
A harmonious public-private partnership in agriculture and the primary sector is the only way the increasing pressures on this sector can be faced effectively without compromising on either the products nor the quality and effective timing of the distribution of these products. A sustainable model of agripreneurship that has ample training and support for capacity building and scalability can provide a robust model for sustainable agricultural practises as well as poverty alleviation.
Mrittunjoy Guha Majumdar
(Featured Image Credits: Flickr)