Basingstoke : Any journey begins with a bit of chaos, anticipation, nerves start taking over and the ever eternal question – have I packed all I need? I am no different, if anything worse! Ever dependent on the 'better half' when it comes to packing, this time I did it all on my own (yes you are right, I am joking ?). So on Friday 19th July as I set off for the Kailash sojourn, I had the pre-travel jitters as well as the excitement of the unknown. Leaving behind the little one and her for 2 and a half weeks was not easy but this trip is more of a pilgrimage (that I had promised to myself) than a trekking trip. I landed in Delhi the next day and that known scent of your motherland ignites the hippocampus and amygdala of your brain incessantly for a few minutes until the customs officer starts asking questions. I stayed for a few hours at my younger brother's place and met my parents who are staying at his place now. Childhood was revisited for a few hours after a long time!
Next day, Sunday the 21st of July was the flight to Kathmandu, where we begin acclimatizing for the trip to Mount Kailash via ManSarovar in Tibet, China. Upon my arrival, the first impression was it was a very small but sweet International airport.
I had to sort out the Visa on Arrival before I could enter the country. After an additional round of security checks (yes it is slightly different here in Nepal), I collected my luggage and then it was time to get some currency exchanged for Nepalese Rupees (NRS) to book a cab to the hotel. I checked into the Hotel Radisson at Lachimpat around 11:30 am and got a room earlier than they usually allow. Time was precious so I went to the travel desk and inquired about some hired cab trip to places around. Almost instantly she gave me a plan and arranged for a cab for the next 5-6 hours for about Nepali Rs 5500. I was ready instantly as visiting Pashupatinath temple and Bhaktapur was on top of my wish list. To my pleasant surprise, I had someone else who was ready to share the trip. I met Aparna Ji, from the Bangalore group, an Accounts professional who had recently resigned from her previous job and taking the break in-between jobs to go for the Kailash yatra. She was happy to join which meant our cost for the trip halved. Our driver, Vishal came around midday and we hit the road to Bhaktapur – one of the three ancient kingdoms of Nepal! On our way we saw the Nepal Parliament house and the famous Bagmati river.
We reached Bhaktapur around 1:30 pm and got ourselves a guide. There is an entry fee of NRS 500 and the guide negotiated NRS 1000 for about 2 hours. Our young guide, Samir is in 10th standard and spoke quite well in English. He claimed to know 3 more languages including Chinese. I asked him to get a facebook page which might expand his reach amongst tourists. He took us up the hill to the Bhaktapur Durbar square and showed us the Krishna temple, the Kedarnath (Shiva) temple, the Durga temple which is being reconstructed following the 2015 earthquake, the King and queen's palaces and baths amongst many. If you are planning to visit Bhaktapur and need a guide, I can give you Samir's details.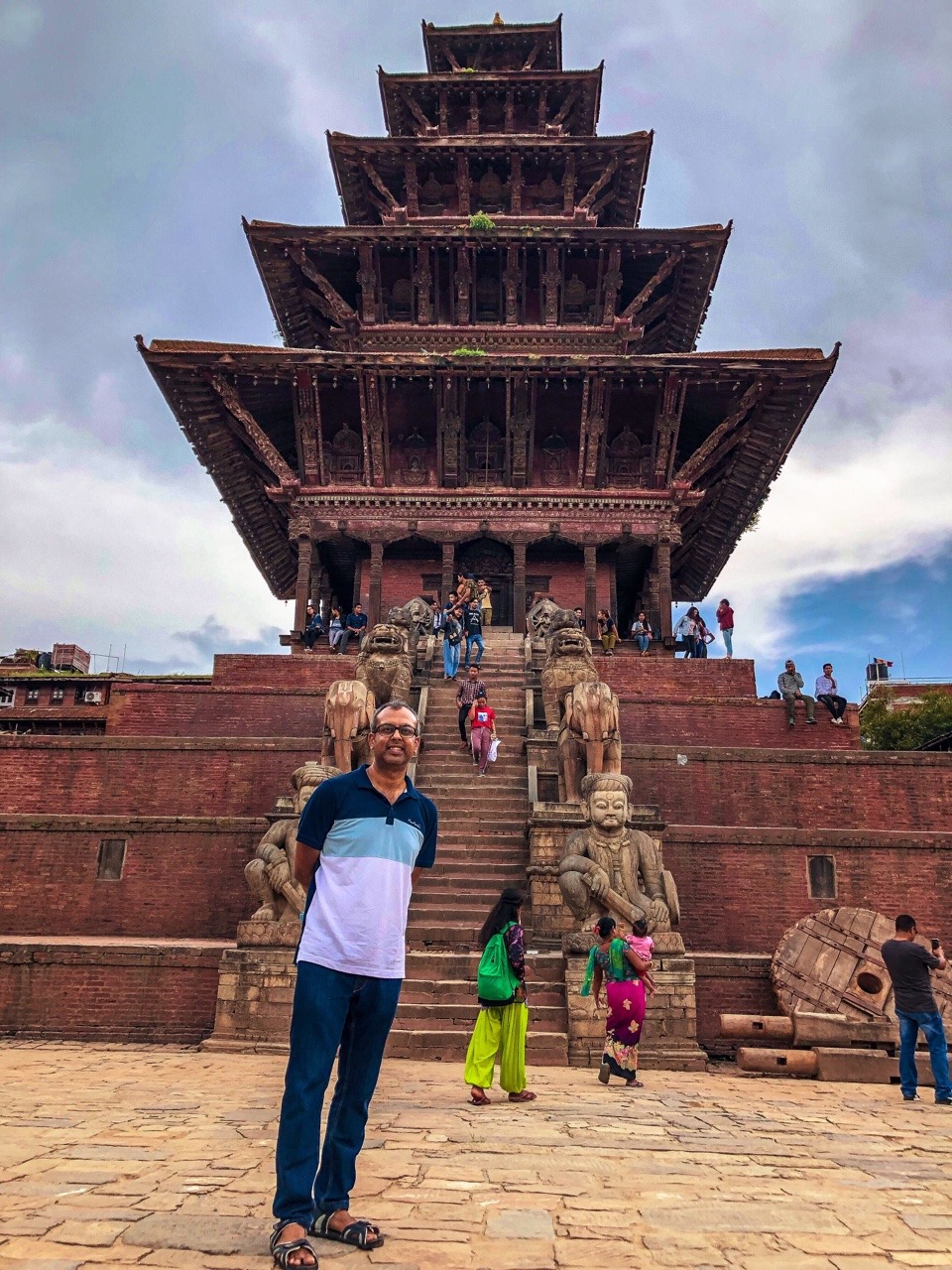 Bhaktapur is one of the ancient kingdoms of Nepal inhabited by the local Newari community and has many UNESCO world heritage monuments and is famous for the Taumadhi Square is espeically famous for the Nyatapola Temple and the Bhairav Temple amongst many other monuments. The different temples have a Pagoda style (Mainly built during the Malla Era, 9th century) Or a Dome Style (Mughal era, 18th century ) Or a Shikhara Style (of the Gupta era, 6th century).
The Nyatapola Temple is one of the oldest temples in Bhaktapur today. It is a five-storey pagoda style temple of Goddess Siddhi Laxmi erected in 1701. The 30 metres high Nyatapola temple gave us some excellent view of nearby hills at Nagarkot from where on a clear day, one may be lucky to see the mighty Mount Everest! This is one of the must see places around Kathmandu. The Thanka art is famous in and around Bhaktapur as is the JuJu Dhau (Curd), one of the best Curd I have had.
Till now I have observed a few things in Kathmandu –
There is lot of pollution which is evident in most of the people using masks to cover the nose. Getting one's own while visiting here will not be a bad idea.
Be careful while crossing busy roads, the locals almost traffic manage themselves on busy roads while crossing!
The local Govt offices and many businesses primarily use Hindi on the name boards. This I think shows their pride in their language.
In the next post, I will write about my experiences in Patan and the famous PashupatiNath Temple on the Bagmati river, both world heritage sites and our preparations for Lhasa and beyond! Signing off until the next post. Live well, Stay Well ?
First Published in Tumblr